The system will be unavailable due to maintenance on Thursday July 19 from 7:00-8:30 am ET.
Family Conversations About Sexual Orientation: Interviews with Heterosexually Married Parents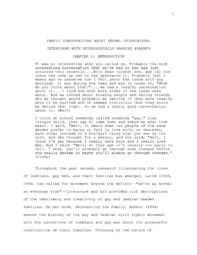 View/Open
Downloads: 101
Downloads: 83
Downloads: 60
Date
1997-04-16
Abstract
Families of all kinds are faced with increasing information regarding sexual orientation. As lesbians and gay men become more visible as parents, partners, and members of families, it is likely that any given person will know a lesbian, gay, or bisexual family member, co-worker, or friend. Understanding diversity in sexual orientation is not only a task for lesbians and gay men. While maintaining friend, family, and professional relationships, heterosexuals and their families are also becoming more aware of sexual orientation diversity. This research was guided by ecological and narrative perspectives. An ecological view provides a framework for examining families within interacting systems. The narrative approach provides an organization for episodes, actions, and meanings. Families are surrounded by systems that view human behavior through the lens of heterosexual experience. This lens promotes and assigns power to the assumption that people are and should be heterosexual. Five research questions guided the study: (1) What is the content and meaning of family conversations about sexual orientation? (b) How do parents attempt to answer children's questions or inform them about the topic of sexual orientation? (c) How does gender organize family conversations about sexual orientation? (d) What other factors influence parents' attitudes about sexual orientation? (e) What values do parents want their children to have regarding sexual orientation? I conducted conjoint qualitative interviews with 20 heterosexually married parents (10 couples) who reported engaging in conversations with their children (ages 5 to 16) about sexual orientation while promoting a climate of acceptance about sexual orientation diversity. Children wondered mainly about marriage rules and coupleness. Parents reported answering questions honestly and extending conversation when possible. In 7 families, both parents reported that mothers talked to the children more about social topics such as sexual orientation. All parents said their attitudes were most influenced by knowing lesbian or gay people. Despite having heard derogatory statements about gays and lesbians in their families of origin, parents reported changing their attitudes to fit their knowledge of real lesbian or gay people. Parents wanted their children to be "accepting," "respectful," "responsible," "tolerant," "open-minded," and "fair."