Family Contributions to the Work Readiness of Youth with Learning Disabilities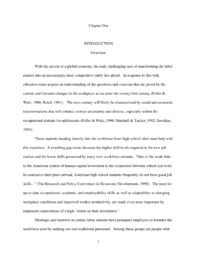 View/Open
Downloads: 113
Downloads: 203
Downloads: 135
Date
1998-06-23
Author
Mooney, Marianne Jr.
Abstract
The study identified the contributions families made to the work-readiness of youth with learning disabilities. A qualitative research approach, the in-depth telephone interview, was the primary information-gathering instrument. Two questions were posed to guide the study: 1.What communications or behaviors do families engage in within the contexts of the home, school, workplace, and community that contribute to the work readiness of youth with learning disabilities? 2. What value do these families place on their roles in the development of their youngster's work readiness?
Families from the Commonwealth of Virginia were nominated by parent resource center directors as meeting the criteria established for the study. A total of 27 individuals were "purposefully selected" to be interviewed. The participants were family members of employed youth, age 16 to 22, with documented learning disabilities.
Telephone interviews were taped, transcribed, coded, and analyzed using Ethnograph and a three-step coding process. A description of major themes and subthemes which emerged from the analysis was presented in narrative and table form. Participant statements were used to illustrate the themes.
Participants identified 29 critical work-readiness skills they perceived youth would need for workplace success. These work-readiness skills supported six themes: human relations, work ethic, compoliance, personal qualities, education and training, and independence.
Participants identified the various activities, behaviors, and conversations they engaged in to promote work-readiness in their children within four setting: the homes, school, workplace, and community. These actions were analyzed within and among the four settings, and in relation to the themes established. The themes of education and training and independence were the most prevalent.
The family's responsibilities for and abilities to develop work-readiness skills were examined, and the types of assistance they had accessed or believed other families could benefit from were identified. Stakeholder groups and their roles and responsibilities in the collaborative effort to develop work skills were identified. Stakeholder roles included provider, teacher, facilitator, nurturer, communicator, and preparer.
Participants reflected on the process of preparing youth with learning disabilities for work, determined what they would do differently, and offered advise on work-readiness skill development to other families of children with learning disabilities.