On Tuesday, November 28, VTechWorks will be unavailable due to an upgrade. Please do not plan to use the repository or deposit files in Elements on the 28th. Login attempts may result in inaccurate error messages. Email vtechworks@vt.edu if you have questions.
My Trash, Your Treasure: What Prevents Risk-Based Governance from Diffusing in American Coal Mining Safety Regulation?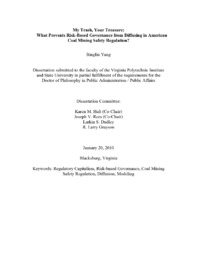 View/Open
Downloads: 282
Downloads: 49
Date
2010-01-20
Abstract
Recently, there has been a growth of risk-based governance in coal mining safety regulation in many European and commonwealth countries. However, it is puzzling that the progress is much slower in the U.S. This dissertation seeks to explore this puzzle by examining the question what are the barriers keeping the American coal mining industry and the U.S. government from moving toward risk-based governance? Based on the theoretical framework introduced by Braithwaite and Drahos (2000), particularly the theory of modeling, this research found three major barriers that keep the American coal mining industry from fully embracing the model of risk management. First, the existence of a large number of small operators prevents this model from being diffused in the industry. Second, increasingly prescriptive regulations have consumed the resources that companies could use to develop risk management systems and have created a mentality of compliance that is not compatible with the idea of risk management. Third, a group of model mongers, missionaries, and mercenaries have advocated a competing model — behavior-based safety — that is more attractive to the industry. This dissertation also found that the lack of three factors helps explain the failure of the U.S. government's move toward risk-based governance: (1) strong imitative pressure from general occupational heath and safety (OHS) regulation; (2) strong model mongers, missionaries, and mercenaries; and (3) webs of dialogue.