VTechWorks staff will be away for the Thanksgiving holiday beginning at noon on Wednesday, November 22, through Friday, November 24, and will not be replying to requests during this time. Thank you for your patience, and happy holidays!
Students' and Teachers' Perceptions of the Benefits and Challenges of Design-based Learning in a Middle School Classroom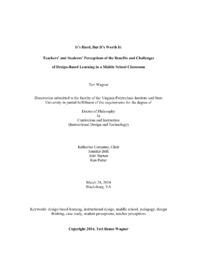 View/Open
Downloads: 2174
Downloads: 463
Date
2014-05-05
Author
Wagner, Teri Renee
Abstract
This research explores how design-based learning can be used as a pedagogical strategy in K-12 classrooms to foster students' 21st century skills in such areas as communication, collaboration, and critical thinking. The research aims to identify what students and teachers who participated in a design-based learning environment perceived to be the benefits and challenges of the project. The findings are used to suggest strategies that can be used to capitalize on the benefits and mitigate the challenges of the strategy. This research employs a multiple case study methodology to investigate the unique perspectives of three audiences who participated in the study: (1) an eighth grade English teacher, (2) an eighth grade social studies teacher, and (3) fifty eighth grade students. It gives a detailed description of the results of post-implementation interviews during which participants reported on what they perceived to be the benefits and challenges of the project. The results of the interviews are utilized as the primary data source for the findings. The study reveals that a majority of the participants perceived that students benefitted from the environment. They gained skills in communication and collaboration, developed the ability to empathize by exploring multiple perspectives, gained real-world experience that prepared them for their future by solving problems they identified in their immediate world, and gained knowledge and skills from a variety of disciplines. The teachers also benefitted from the environment in that they gained a new respect for their students' skills and abilities, explored and re-defined their own pedagogical philosophies, and improved their own design thinking skills. While participants reported multiple benefits to the learning environment, they also acknowledged several challenges. Time was a challenge for everyone involved. Teachers perceived keeping students motivated when they faced ambiguity and assessing students to be a challenge. They also noted that administrative support for design-based learning is a challenge that must be overcome in order for wide-scale adoption to be realized. While students also identified many challenges to the environment, they consistently acknowledged that the challenging aspects - communication, collaboration, exploring multiple perspectives, managing real-world constraints, and critical thinking - were ultimately beneficial. The findings translate to an overarching message that design-based learning is hard, but it's worth it.