VTechWorks staff will be away for the Thanksgiving holiday starting Wednesday afternoon, Nov. 25, through Sunday Nov. 29, and will not be replying to requests during this time. Thank you for your patience.
Accelerating a Coupled SPH-FEM Solver through Heterogeneous Computing for use in Fluid-Structure Interaction Problems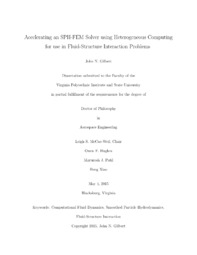 View/Open
Downloads: 6602
Downloads: 78
Date
2015-06-08
Author
Gilbert, John Nicholas
Abstract
This work presents a partitioned approach to simulating free-surface flow interaction with hyper-elastic structures in which a smoothed particle hydrodynamics (SPH) solver is coupled with a finite-element (FEM) solver. SPH is a mesh-free, Lagrangian numerical technique frequently employed to study physical phenomena involving large deformations, such as fragmentation or breaking waves. As a mesh-free Lagrangian method, SPH makes an attractive alternative to traditional grid-based methods for modeling free-surface flows and/or problems with rapid deformations where frequent re-meshing and additional free-surface tracking algorithms are non-trivial. This work continues and extends the earlier coupled 2D SPH-FEM approach of Yang et al. [1,2] by linking a double-precision GPU implementation of a 3D weakly compressible SPH formulation [3] with the open source finite element software Code_Aster [4]. Using this approach, the fluid domain is evolved on the GPU, while the CPU updates the structural domain. Finally, the partitioned solutions are coupled using a traditional staggered algorithm.