Green Schools - The Implementation and Practices of Environmental Education in LEED and USED Green Ribbon Public Schools in Virginia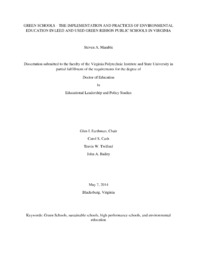 View/Open
Downloads: 3061
Downloads: 70
Date
2014-06-03
Author
Marable, Steve Alexander
Abstract
The purpose of this study was to examine the environmental education curriculum which has been utilized within Green Schools. For this study the researcher defined Green Schools as educational facilities with Leadership in Energy and Environmental Design (LEED) certification or United States Education Department (USED) Green Ribbon recognition. Currently, there is no set standard for the implementation of environmental education in Green Schools or for schools that utilize the building as a teaching tool for students. This descriptive study surveyed Green Schools in the Commonwealth of Virginia in order to better understand what common programs and curricula were being utilized. This study will also assist in establishing pedagogical best practices for environmental education while describing how LEED certified buildings are currently being used by educators as a teaching tool to support sustainable practices. Overall, 14 Green Schools in the Commonwealth of Virginia agreed to participate in the study. Once principals gave consent for their school to participate in the study, they were asked to respond the survey instrument and invite teachers to participate in the Green Schools eSurvey also. The survey instrument consisted of 14 multiple choice and open response survey items. Overall, 98 principals and staff participated in the survey. Multiple choice survey questions served as the quantitative data for the research study. Quantitative data were examined to report descriptive statistics to provide parameters about the sample population. The frequency and percentage from each category, mean, and mode were also reported from each quantitative survey item. Qualitative data were examined by emerging themes according to pedagogical strategies and programs. The findings from the study indicated that teachers are employing practices that are consistent with current emphases on environmental education. Data also supported that educators take pride in their buildings and incorporate the facility as a teaching tool in a variety of instructional practices throughout the Commonwealth of Virginia.
Related items
Showing items related by title, author, creator and subject.
Lerch, David K.

(

Virginia Tech,

1994-11-15

)

This case study determined whether there was a difference in perceptions among principals from different quality schools about the influence desegregation, supplemental financial assistance, magnet thematic activities, ...

Fowler, Lee V.

(

Virginia Tech,

1997-07-31

)

This dissertation is a case study of the initial year of integration at a predominantly white southern high school. The school's racial configuration changed from approximately 10% black to approximately 35% black in the ...

Carrington, Willie Patrick

(

Virginia Tech,

2001-10-02

)

Over the last three decades, the magnet school program has been employed as a desegregation tool to eliminate, reduce, or prevent minority group isolation in public schools in America. By definition, the magnet school ...