The role of dispersal networks in structuring biotic communities: A tale of streams and metacommunity theory.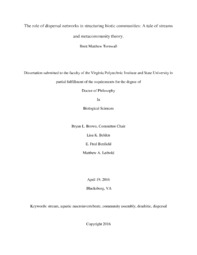 View/Open
Downloads: 105
Downloads: 37
Date
2016-06-01
Author
Tornwall, Brett Matthew
Abstract
Identifying the processes and mechanisms that govern communities of organisms is the main goal of community ecology. Locally operating mechanisms such as environmental filtering, in which the environment determines what species are found in a given location, as well as regional processes such as dispersal have all been identified as potential drivers of community processes. However, the relative importance of these drivers may vary temporally and spatially. In dendritic stream networks, headwater streams are isolated when compared to more centrally located mainstem stream sections. I investigated the potential for stream networks to influence the relative influence of local and regional processes via a survey and field experiment based approaches. I found that headwater streams can influence mainstem stream communities, potentially as a result of the dispersal of organisms or abiotic materials. Additionally, I demonstrated that macroinvertebrate communities in headwater streams respond more strongly to manipulations of local environment than do mainstem streams, both in terms of community composition as determined taxonomically and as functional traits. These results indicate that headwater streams may be affected differently than mainstem streams by anthropogenic activity and as such, management strategies and restorations may need to be specifically tailored to address the relative influences of local and regional processes at varying points within a stream network.