VTechWorks staff will be away for the Memorial Day holiday on Monday, May 27, and will not be replying to requests at that time. Thank you for your patience.
Coming In and Coming Out: Navigating the Spaces between Cultural and Sexual Identity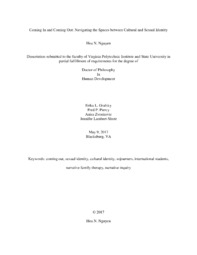 View/Open
Downloads: 1435
Downloads: 33
Date
2017-06-30
Abstract
The present study addresses three objectives: 1) to explore the experiences of lesbian, gay, bisexual, and queer (LGBQ) persons who are coming in the United States as students and coming out about their sexual orientation, 2) to explore the cultural narratives that emerge in their disclosure process, and 3) to generate ways to support LGBQ international students. Research on the disclosure process for LGBQ persons have been comprised largely of white, middle-class individuals and families. This narrative inquiry broadens our understanding of how LGBQ persons from different cultures define and experience the coming-out process, particularly in the context of moving to a different country. Twelve LGBQ international students shared their coming in, coming out stories through interviews, journals, a timeline, online forum, and picture. Narrative analysis of their stories consisted of three methods: thematic, structural, and dialogic. These findings provide directions for future research, clinical practitioners, educators, and student affairs personnel working with international students.