Plant proteins as multifunctional additives in polymer composites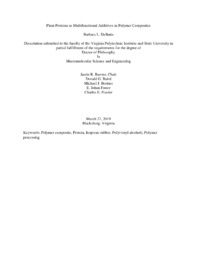 View/Open
Downloads: 470
Downloads: 39
Date
2019-04-16
Author
DeButts, Barbara Lynn
Abstract
Wheat gluten, wheat gliadin, and corn zein agricultural proteins were evaluated as multifunctional additives that: (1) provided reinforcement, (2) improved thermal stability, and (3) lowered the cost of polymer composites. Wheat proteins were utilized in two polymer matrices: poly(vinyl alcohol) (PVA) and synthetic cis-1,4-polyisoprene rubber (IR). The proteins were hydrolyzed and dispersed in the polymer matrix, where they cooperatively self-assembled into nanostructures called amyloids. Amyloids have the potential for high rigidity and stability due to high β-sheet content. In Chapter II, trypsin hydrolyzed wheat gluten (THWG) proteins were incubated in aqueous PVA solutions, then the composite solutions were air dried and compression molded into films. Anisotropic protein aggregates formed through a typical mechanism of β-sheet self-assembly, where a greater molding time and pressure and/or a lower PVA molecular weight allowed for more protein aggregation. The larger protein structures provided less reinforcement. In Chapters III and IV, THWG and trypsin hydrolyzed gliadin (THGd), a component protein in wheat gluten, were compounded in synthetic polyisoprene rubber to form nanocomposites. The reinforcement correlated to the protein β-sheet content and varied with protein concentration, protein batch preparation, processing temperature, and compounding time. The isotropic β-sheet containing structures were very thermally stable, even under harsh rubber compounding conditions. By optimizing the processing parameters uniform protein dispersion and optimal IR reinforcement were achieved, although the protein and IR phases had poor compatibility. In Chapter V, the THGd-IR composites were cured using a typical cure package and molding process. Protein aggregation into nanostructured β-sheets was observed during the curing process. Rubber reinforcement increased as a function of protein concentration and curing time. In Chapter VI, a hydrophobic protein (zein) was substituted for the hydrophilic protein (gliadin) used previously to improve protein-IR compatibility. The zein protein was better at reinforcing IR, while gliadin improved mechanical stability. Both zein and gliadin improved the thermal stability of IR. The results from Chapters II-VI showed an interesting concept: in situ filler formation in polymer matrices where the choice of protein, polymer, and processing conditions influenced the final morphology and composite properties.
General Audience Abstract
We use plastics every day for a wide range of applications, from food packaging to automobile tires. Many of these plastics are composite materials, called "polymer composites," meaning they are made of two or more chemically distinct materials where one material is a polymer. For reference, a polymer is a long chain molecule made of many ("poly-") units ("- mer"). Polymer composites often contain additives which modify the properties of the polymer. For example, many soft polymers, such as tire rubber, need to be made stiffer and so a "reinforcing additive" is used to improve the stiffness of the rubber. Many composite materials are made stiffer so less material can be used. This process is called "lightweighting." The automotive industry and food packaging industry use this process to reduce weight and fuel costs. In this research, plant proteins are tested as reinforcing additives in polymer composites. Plant proteins, such as wheat gluten, are abundant, non-toxic, sustainable, and can self-assemble into extremely small, stiff structures. For these reasons, plant proteins offer an environmentally friendly alternative to typical reinforcing additives. This dissertation shows that plant proteins can reinforce two polymers with very different properties. The first polymer is poly(vinyl alcohol) (PVA), which is biodegradable, hydrophilic (i.e., "water loving"), and is commonly used in flexible food packaging. The second polymer is synthetic cis-1,4-polyisoprene rubber (IR), which is non-biodegradable, hydrophobic (i.e., "water fearing"), and is commonly used in automotive tires. In Chapters II-V, the wheat gluten protein is hydrolyzed, i.e., chemically "chopped" into short chain peptides, to encourage the self-assembly of the plant protein into small, stiff structures. The self-assembled protein structures survive typical industrial processing techniques, such harsh rubber compounding conditions which involve high heat, pressure, and shear forces (i.e., the material is pushed in opposing directions). In Chapter VI, full corn and wheat proteins are incorporated into IR using standard industrial mixing and curing processes. The corn and wheat proteins reinforce the synthetic rubber and inhibit the degradation of the chemical structure of cured rubber under high heat. At certain protein concentrations, the proteins improve the elasticity and lessen the permanent deformation in the polymer composite. Together, Chapters II-VI show that proteins from diverse plant sources can be used to improve the performance of polymers with dissimilar properties.