VTechWorks staff will be away for the Thanksgiving holiday starting Wednesday afternoon, Nov. 25, through Sunday Nov. 29, and will not be replying to requests during this time. Thank you for your patience.
New Town: Across the Color Line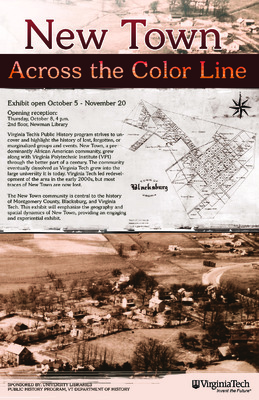 View/Open
Downloads: 16
Downloads: 4
Downloads: 4
Downloads: 3
Downloads: 2
Downloads: 11
Date
2015-10-05
Author
Winling, LaDale C.
Bolt, Carmen
Fralin, Scott
Abstract
"Remembering New Town" is an exhibit project intended to describe and interpret one of Blacksburg's African American neighborhoods. It will focus most heavily on the period 1900 to 1940. The exhibit is part of the VT Public History program's ongoing engagement with local history and public audiences. In particular, VT PH makes efforts to excavate and bring to light the history of lost, forgotten, or marginalized groups and events. The New Town community was founded and grew along with VAMC/VPI through the better part of a century and eventually dissolved as Virginia Tech grew into the large university it is today. Virginia Tech led redevelopment of the area in the early 2000s and most of the traces of New Town are now lost to the history. The African American community was central to Montgomery County and Blacksburg history. Especially since New Town was so proximate to VT, this history will be of great interest to the VT community. Finally, this exhibit will emphasize the geography and spatial dynamics of New Town, which will lend itself to an engaging and experiential exhibit form. 2015/10/05 - 2015/11/20
Collections
Related items
Showing items related by title, author, creator and subject.
Greenwood, Anne Leslie

(

Virginia Tech,

2008-04-21

)

Using Richmond as a case study, this thesis seeks to answer the following question: what was the effect of the First World War on elite white Richmond womenâ s roles as southern women? This thesis argues that, while ...

Taylor, Jessica

;

Stewart, Emily

(

Virginia Tech,

2020-01-21

)

Voices of Virginia pulls together stories from oral history collections from across decades and archives to create an all-audio source companion for Virginia's high school and college students. The "album" is only ...

Silas, Caroline; Foster, Kevin; Kelly, Nancy; Beadle, Scott; Acosta, Olga; Alvarez, Andrew; Wood, Sherry; Sewell, Edward H.; Brown, Sueann; Critchfield, Steve; Barroso, Lisa; Barroso, Mark; Vachon, Helene; Noll, Steve; Forte, Joseph; Ridings, Adrian; Wright de Hernandez, Anthony; Lellock, John Slade; Hakeem, Danya; Goode, Eliza; Robidoux, Carol; Rinehart, Susanna

(

Virginia Tech,

2019-04-05

)

This stage production included readings of contemporaneous newspaper articles about Denim Day in 1979 and clips from the Denim Day 40th Anniversary Oral History Collection. It features stories from some of the original ...