A Mixed Methods Study of Transfer Students' Perceptions of an Undergraduate Summer Research Program: Exploring the Relationships Between the Program and Students' Science-Related Beliefs and Effort in the Program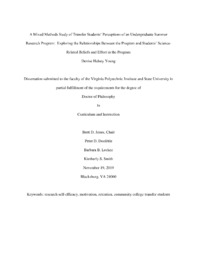 View/Open
Downloads: 14
Downloads: 0
Downloads: 0
Date
2020-02-06
Author
Young, Denise Halsey
Abstract
Community college students who transfer to a bachelor's degree granting institution to complete degrees in science often change majors before graduation. Limited research is available on institutional support programs that target this specific population and how programs such as summer research and academic enrichment might increase their motivation to study and persist in a science major. The present study examined the relationship between participants' perceptions of their experience in a summer research program and their motivation to persist in science-related majors and career paths. Participants were community college students with an interest in pursuing a science major and career at the host university. All participants completed a 10-week residential summer apprenticeship-style research program. Participants completed pre- and post-surveys before voluntarily participating in a semi-structured interview that utilized questions adapted from the MUSIC Model of Academic Motivation Inventory. The findings demonstrate the relationship between program features and participants' science-related self-efficacy, science identification, science-related goals, and effort.
General Audience Abstract
This study explored the relationship between community college students' experiences in a summer research program and their decisions about science-related academic and career goals. Participants were enrolled in a ten-week summer research and academic enrichment program at a research university. Each participant was assigned a faculty mentor for the duration of the program. The findings suggest that certain features of the program were related to participants' goals in science.