A Journey through a Story : Remembering to be a child again with The Little Prince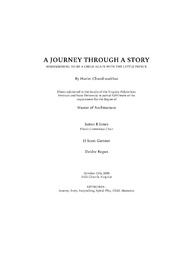 View/Open
Downloads: 33
Downloads: 5
Date
2020-10-28
Author
Chandrasekhar, Harini
Abstract
myth (n.) A traditional story which embodies a belief regarding some fact or phenomenon of experience, and in which often the forces of nature and of the soul are personified; a sacred narrative regarding a god, a hero, the origin of the world or of a people.2 A parable; An allegory. From the French word mythe (1818) and directly from Modern Latin mythus, which originated from ancient Greek mŷthos : "speech, thought, discourse, word, humour, conversation, story, saga, tale, anything delivered by word of mouth". Attested in English since 1830. Ever since I was a child, I have been fascinated with the fictional world of stories and the act of of storytelling. Always wide-eyed and excited, I remember the countless times that I have lost myself in the mythical worlds in stories. It is moments of sadness or of anxiety, but also of wonder, of ecstasy even, the experience of the beautiful under one or the other of its innumerable forms, the joy of love, of discovery, of happiness in that sense, that are most likely to remind us of our humanity. Hence, when I started my thesis about wanting to explore the design of a built space through the context of storytelling, I was confused. There were these three questions that hounded me at every turn : 1. What is a "place for storytelling"? Does the act of storytelling really exist within the confines of a particular "place"? 2. And if yes, do stories emerge from places? Or do places emerge from stories? What is the nature of the relationship between both? 3. And if places truly are born out of stories, is it possible to craft a journey through a built space akin to our journey through the mythical worlds of a storyteller?
General Audience Abstract
What is a "place for storytelling"? Do stories emerge out of built spaces? Or do built spaces emerge out of stories? I had questions on the relevance of architecture in something as raw and primal as the act of storytelling. But what I did not anticipate was that, of all the many different things that I was exploring, the path that I was to actually take would lie in a children's book that I had never heard about before. It was pure serendipity that I chanced upon it, and later it changed my whole thesis in ways that I could not imagine. I realized that I needed not to find "answers" to questions; but rather enjoy this beautiful journey that I was on. The magic of storytelling cannot be shut within walls, but needs to grow outwards. Storytelling is as much about excitement as it is about contemplation. It is about remembering the child within us, and about taking a moment to stop and watch sunsets. It is about rituals and thresholds and gazing at stars. It is about shattering the layers and layers of "grown-up" ideas that we tightly wrap ourselves with. It was when I stopped looking for answers, that I could truly understand what is the nature of the built space that I was dreaming of. Rather than being a single elusive construct - it was an eclectic mix of many different experiences tied together into a journey, guided by a little boy with golden hair.