Density and What Matters: A Study of People's Attitudes Toward and Perceptions of Urban Density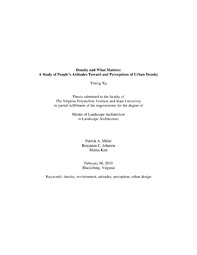 View/Open
Downloads: 193
Downloads: 18
Downloads: 16
Date
2010-02-08
Abstract
As long as the population keeps growing and lands are desired, the research on how the city could be developed is needed. Higher density development, considered as the alternative for urban sprawl, is a new trend for future development. The barrier between advocacy of higher density environment and misconception of density asks for a descriptive and systematic interpretation for human perception of density.
In response to this demand, this research aims to provide a description of the factors that influence peopleâ s perception of higher density environments. Also, it aims to identify peopleâ s important concerns while using outdoor environments.
This study is based on data obtained from an online survey questionnaire that polled public attitudes toward density. The findings from the data indicate that the more important characteristics that people are concerned about the higher density environment are presence of nature, interaction opportunities, building identity and perceived safety. This study also points out that peopleâ s attitudes toward density vary based on certain factors. Those factors are age, occupation, place of residents and type of residents.
This research could be used as a reference for future planning and design. Results of this study reflect participantsâ attitudes towards density. It initiates a discussion of future research and generates a frame work for future study for a larger population.