VTechWorks staff will be away for the Thanksgiving holiday beginning at noon on Wednesday, November 22, through Friday, November 24, and will not be replying to requests during this time. Thank you for your patience, and happy holidays!
Benefits of Dung Beetles (Coleoptera: Scarabaeidae) on Nutrient Cycling and Forage Growth in Alpaca Pastures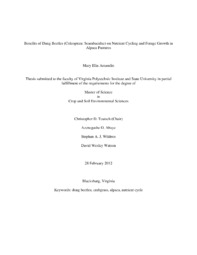 View/Open
Downloads: 168
Downloads: 47
Date
2012-02-28
Author
Arnaudin, Mary Elin
Abstract
Alpacas have been gaining prominence in the U.S. since the early 1980s. In pastures, dung beetle activity has been shown to enhance the degradation and incorporation of dung into the soil. The benefits of this activity have been quantified for cattle, but not for alpacas. The objectives of this study were to document the dung beetle species present in alpaca pastures, and to evaluate the impact of dung beetle activity on the growth of a common summer annual grass. In 2010 and 2011, dung beetle species present in alpaca pastures located at Virginia State University (VSU), were evaluated weekly from late May until late August. Eleven species of dung beetles were found, with Onthophagus taurus Schreber being the most dominant. In 2011, a greenhouse study was conducted at Virginia Techâ s Southern Piedmont Research Station. Treatments included a control (no dung, no beetles), dung only, dung with five pairs of O. taurus, and dung that was allowed to be colonized in alpaca pastures at VSU. The addition of O. taurus and the field colonization both significantly increased total yield over the no dung control by 10% and 14%, respectively. These results indicate that healthy and diverse dung beetle communities occur in alpaca pastures in the mid-Atlantic region, and that the presence of these beetles would likely enhance nutrient cycling and pasture growth. However, it is important to remember that dung beetles are just one component of many found in a healthy grassland ecosystem, and the functions of these components are interrelated.