Does Cable Television Face a Nationwide Competitor in Direct Broadcast Satellite Service?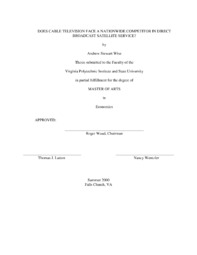 View/Open
Downloads: 53
Downloads: 100
Downloads: 51
Date
2000-06-07
Author
Wise, Andrew Stewart
Abstract
An important problem for economists and policy-makers concerning the cable industry is whether the cable industry faces widespread direct competition. Only one roughly comparable, nation-wide competitor exists, Direct Broadcast Satellite ("DBS"), and there are some indications that DBS does not constrain cable prices. The model presented in this paper indicates that DBS and cable compete imperfectly in terms of monthly prices, if at all, but compete more directly in terms of the premium-level services they offer. Other factors may indicate whether a community is open to advanced services like DBS, such as whether the cable operators offers high-speed Internet access.