VTechWorks staff will be away for the Thanksgiving holiday beginning at noon on Wednesday, November 22, through Friday, November 24, and will not be replying to requests during this time. Thank you for your patience, and happy holidays!
Toward A Greater Understanding of Fathering: Five African American Fathers' Experiences Parenting Their Children With Chronic Illnesses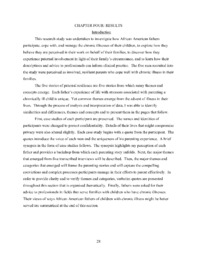 View/Open
Downloads: 61
Downloads: 68
Downloads: 64
Date
2002-09-05
Abstract
Five African American fathers participated in a qualitative study that examined how fathers experience their children who live with chronic illnesses. The examination of their strengths and resiliencies revealed 10 factors that enhanced involvement and were incorporated into fathers' overall approaches to parenting: clear paternal definition; strong parenting alliance; gains experienced through father/child relationship; strong spiritual foundation; responsive social support systems; strategies for managing employment and illness demands; confidence in ability to navigate health care structure; attitude of self-sacrifice and flexibility; strategies for managing perceived disparities; and maintenance of future focus. In addition, fathers defined coping and advised professionals involved with families who have children diagnosed with chronic illness. In doing so, they revealed challenges to participation, potential constraints to involvement, and suggestions for productive encounters with systems of care and collaborative exchanges on behalf of children engaged in treatment.