FACTORS THAT INFLUENCE THE SOCIAL LIFE AND VITALITY OF PUBLIC OPEN SPACES IN MARACAIBO - VENEZUELA. Case Study: Plaza de la Madre and Plaza de la República.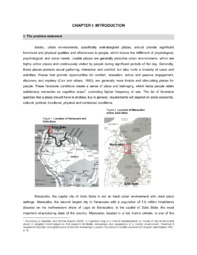 Date
2001-10-12
Author
Montero Avila, Monica Ines
Abstract
Plaza de la Madre and Plaza de la República., located in Maracaibo, Venezuela, are two important urban plazas studied from a social perspective, based on the belief that people and their needs should be addressed in public plaza design and renovations. The research problem is based on the fact that many plazas in Maracaibo provide uncomfortable conditions for user enjoyment and satisfaction, in terms of poor climatic comfort, security and poor maintenance, among other conditions. The methodology used in this research consisted of interviewing users of both plazas and making observations of plaza use and physical characteristics. The research showed that climatic and security conditions determine, in most instances, the presence of social life and vitality in these public plazas. A combination of functional factors influence the vitality, attractiveness and the image of the plazas including the location of the plazas, the presence of supportive activities and uses which attract people to the context, the programmed activities developed in the plaza, the presence of other people and the presence of physical amenities that support different activities. It was found that environments that satisfy many human needs (such as security, thermal comfort and affiliation) are highly visited by people, and therefore more livable, with a greater frequency of use, and more meaning and attachment to those spaces. The study also showed that Plaza de la República had more favorable attributes that contributed to its enjoyment and livability than Plaza de la Madre. People preferred to be in spaces where others congregated and socialize for security reasons. Plazas have an important role in the social life of cities. Therefore, the study of these settings from a social perspective becomes critical for this research. The research findings provided valuable information that was used to develop design implications for plaza design in Maracaibo. Recommendations were mainly focused on improving the conditions of Plaza de la Madre and making recommendations for plazas with similar conditions in order to increase their use, people presence and livability. Design implications were directed towards reestablishing climatic comfort, security and incorporating more activities and physical amenities that could create more activities in the plazas and attract more people. Recovering the use and livability of plazas can promote a sense of ownership and territoriality of public spaces. If this sense of ownership could be established, attachment to and care for those spaces could increase. This attachment could also promote sociability in public spaces and subsequently social tolerance among strangers. The author concludes that the attitudes of designers and municipal authorities toward public space design need to be more inclusive and site specific (more aware of the range of people's needs and the environment). Therefore, addressing climate and security issues of a place, for example, become critical variables that should be incorporated in any public space design.