VTechWorks staff will be away for the Thanksgiving holiday starting November 24 through November 28, and will not be replying to requests during this time. Thank you for your patience.
An Urban Dwelling Place for Farmers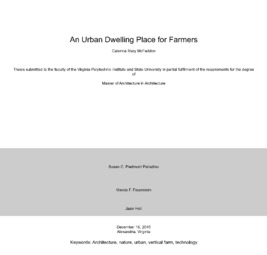 View/Open
Downloads: 109
Downloads: 182
Date
2010-12-16
Author
McFadden, Caterina M.
Abstract
It is my intention to plan for the types of activity carried out by future inhabitants of vertical farms. Through a twenty-six storey high building,a conceptual farm with housing for the producers, situated amongst dense urban fabric of Baltimore Maryland, architecture is explored. Utilizing form, order and space, architecture has a responsibility to construct the interalia or main theatre of human function. The architect has a fiduciary responsible to determine the design and purpose of the stage, setting limits on the types of drama that the inhabitants play. From spacious rural cultivator with evocative farmhouses, to confined urban neo-farmer, the stage for dwelling is extremely critical to determine. These displaced farmers do not perform all typical city functions, but they are confined as city dwellers. For them, it remains critical to be connected with nature and neighbor. Urban farmers need housing that enhances their quality of life. Rather than imposing regulated apartment space for one inhabitant, the city comes forth to them in a different light, with many open neighborhood spaces for interaction and farm activity within a merging dual structure. The dialog the two concepts (city dwelling and farming) play as they join, dwell on a relationship of graphic tools such as rotation, scale, thickness and transparency. Further opportunity exists to investigate the act of labor(natural) and work (physical) of the urban neo-farmer, in a tall building in an effort to provide insight to their human condition. One activity that is part of being an urban neo-farmer may be the practice of cleaning off boots and placing them in lockers before returning home after a long work day.