An Investigation of Fit, Style, and Accessibility of Ready-To-Wear Clothing for Tall Women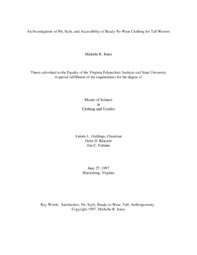 View/Open
Downloads: 241
Downloads: 15
Downloads: 16
Downloads: 90
Date
1996-12-16
Author
Jones, Michelle R.
Abstract
Tall women's satisfaction with Tall clothing was examined in regard to fit, style, and accessibility. In addition, anthropometric measurements (stature, neck to waist, waist to ankle, shoulder to wrist) of tall women were compared with reported fit problems with Tall clothing, with the measurements from commercial standard PS 42-70, and with two racial groups. Data were gathered from 75 women who were at least 5 feet 8 inches and between 18 and 54 years old.
The subjects were satisfied with the overall fit of Tall clothing, but were dissatisfied with the style, and reported buying Misses' size for most clothing. The subjects rated style as more important than fit and were more satisfied with the overall style of Misses' clothing than with the style of Tall clothing. The subjects appeared to buy Misses' clothing despite their dissatisfaction with fit, in order to have the desired styles.
The reported fit problems with Tall clothing were too short hiplines in skirts and too short hemlines in button-up blouses. When compared with the measurements for Tall in PS 42-70, the subjects' measurements were significantly larger. Comparisons of measurements between Black subjects and White subjects revealed no significant differences.
Style appeared to be a major influence in tall women's dissatisfaction with and the purchase of Tall clothing. Therefore, manufacturers need to consider aesthetic qualities when developing garments for this market and should revise sizing systems to accommodate the fit needs of Tall women.