Dairy Food Consumption in Educated, Older Women in Virginia: Use of Focus Groups to Examine Attitudes and Perceptions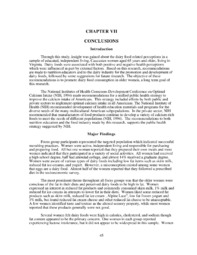 View/Open
Downloads: 304
Downloads: 96
Downloads: 122
Downloads: 115
Downloads: 226
Downloads: 100
Date
1997-09-04
Author
Eddy, Katherine T.
Abstract
National studies indicate that older women have a suboptimal intake of calcium, and are not consuming the recommended daily servings of dairy foods. Three focus groups of 5-10 women were conducted to examine older women's perceptions of dairy foods. Independent living, Caucasian women aged 65 and older were recruited from retirement communities in urban and rural areas of Virginia. Discussion questions addressed preferences for dairy foods, advantages and disadvantages of dairy foods, factors that influence dairy intake, and possibilities for product improvements. Focus group discussions were audio taped, transcribed by the facilitator, then checked for accuracy by a Virginia Tech graduate student using methods described by Krueger (1988). Both persons identified major and minor themes and organized quotations thematically. Analysis was independently conducted to verify correct interpretation of quotations. Results were reported in the following three broad themes: Positive and Negative Health Perceptions, Sensory Attributes, and External Influences.
The predominant negative health perception was that many dairy foods are high in fat. Many women also associated dairy foods with cholesterol, sodium, and calories. One woman in each focus group reported that she experienced lactose intolerance. Participants believed dairy foods were a good source of calcium and other nutrients and were aware of osteoporosis and its relationship with calcium. However, calcium supplement use, particularly Tums®, was prevalent, and participants felt it was important in osteoporosis prevention. Women reported their physicians encouraged them to use calcium supplements and watch intake of dairy foods due to fat content. Women also reported receiving information from media sources such as health newsletters.
Women wanted the food industry to recognize older adults as an important market. Many felt that dairy food packages, particularly cottage cheese and reduced-fat ice creams, were too large for a single person and resulted in spoilage and wasted money. Women found it difficult to locate and read expiration dates, and some expressed confusion over "Use By" and "Sell By" dates. Products, such as plastic milk cartons and zip-pack cheeses, were difficult for women with arthritic hands and diminished vision to open. Women's comments suggested that they would be receptive to products and packaging designed and marketed to meet their needs. Appropriate recommendations are made to the dairy industry for the promotion and development of such dairy foods. Nutrition education programs for this population should continue to promote the use of low fat dairy foods and should emphasize other nutrients, such as Vitamin D and phosphorus, found in dairy foods.