VTechWorks staff will be away for the Thanksgiving holiday beginning at noon on Wednesday, November 22, through Friday, November 24, and will not be replying to requests during this time. Thank you for your patience, and happy holidays!
Electronic Signal Processing in an Optical Fiber-Based Magnetometer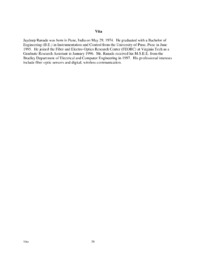 View/Open
Downloads: 153
Downloads: 55
Downloads: 147
Downloads: 100
Downloads: 94
Downloads: 68
Downloads: 51
Downloads: 70
Downloads: 71
Downloads: 51
Downloads: 58
Downloads: 82
Downloads: 77
Downloads: 77
Downloads: 157
Downloads: 129
Downloads: 158
Downloads: 37
Downloads: 156
Date
1997-09-11
Abstract
Conventional Extrinsic Fabry-Perot Interferometric (EFPI) sensors have been used to measure a variety of physical parameters like temperature, pressure and strain. A modified version of this geometry is successfully implemented to measure low-level magnetic field densities. A complete optical fiber based magnetometer system consisting of sensor head, laser source, opto-electronics, signal demodulation circuitry and display is designed, fabricated and tested. Various electronic signal demodulation schemes are discussed. The Quadrature Phase Shifted EFPI signal demodulation scheme, used in the system, is studied in detail. The scheme is designed and implemented in both analog and digital domain and the advantages and drawbacks of each type are presented. Primary limitations in the measurement of extremely low-level magnetic field densities are discussed and methods to overcome them using electronic signal processing schemes are suggested for future consideration.