VTechWorks staff will be away for the Thanksgiving holiday beginning at noon on Wednesday, November 22, through Friday, November 24, and will not be replying to requests during this time. Thank you for your patience, and happy holidays!
Insulator-based Dielectrophoresis for Bacterial Characterization and Trapping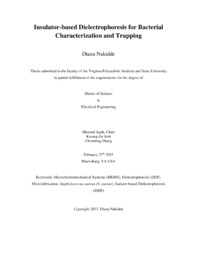 View/Open
Downloads: 1043
Downloads: 155
Date
2015-03-31
Abstract
This work was focused on the characterization of microparticles with particular emphasis on waterborne pathogens which pose a great health risk to human lives. The goal of this study was to develop microfluidic systems for enhanced characterization and isolation of bioparticles. Insulator-based dielectrophoresis (iDEP) is a promising technique for analyzing, characterizing and isolation of microparticles based on their electrical properties. By employing insulator-based constrictions within the microchannel in combination with microelectrodes within the vicinity of the electrodes, dielectrophoretic performance is enhanced. In this study, three dimensional insulator-based dielectrophoresis devices are fabricated using our in-house developed 3D micromachining technique. This technology combines the benefits of electrode-based DEP, insulator-based DEP, and three dimensional insulating features with the goal of improving trapping efficiency of biological species at low applied signals and fostering wide frequency range operation of the microfluidic device. The dielectric properties of bacteria as well as submicron polystyrene beads are discussed and the impact of these results on the future development of iDEP microfluidic systems is explored.