Autonomy Supportive Instruction as it relates to Students' Motivational Beliefs on an ePortfolio Project: The Moderating Role of Culturally Based Learning Preferences.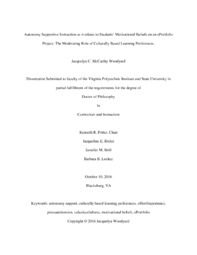 View/Open
Downloads: 305
Downloads: 111
Date
2016-11-07
Author
Woodyard, Jacquelyn Claire
Abstract
This study investigated students' perceptions of autonomy support from an instructor in relation to students' motivational beliefs on an ePortfolio project. The motivational beliefs of interest included: Effort/Importance, felt Pressure/Tension, and Value/Usefulness. These relationships were further examined with particular focus on the potential moderating role of students' culturally based learning preferences as outlined in Parrish and Linder-VanBerschot's (2010) Cultural Dimensions of Learning Framework (CDLF). This study was quasi-experimental, survey-based research supported by self-reported data collected from a convenience sample of graduate and undergraduate students. Students enrolled in a variety of courses that assigned an ePortfolio assignment received an email invitation from their instructor and self-selected to participate. Based on the responses of 35 students, the findings from this research showed significant relationships between three culturally based learning preferences and the motivational belief of Value/Usefulness. A summary of findings, limitations, and implications for further research are discussed.