VTechWorks staff will be away for the Thanksgiving holiday beginning at noon on Wednesday, November 22, through Friday, November 24, and will not be replying to requests during this time. Thank you for your patience, and happy holidays!
Empirical Analysis of Pneumatic Tire Friction on Ice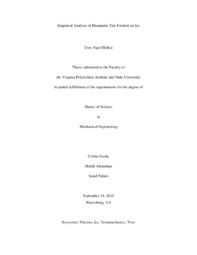 View/Open
Downloads: 12
Downloads: 5
Date
2010-09-14
Author
Holley, Troy Nigel
Abstract
Pneumatic tire friction on ice is an under-researched area of tire mechanics. This study covers the design and analysis of a series of pneumatic tire tests on a flat-level ice road surface. The terramechanics rig of the Advanced Vehicle Dynamics Lab (AVDL) is a single-wheel test rig that allows for the experimental analysis of the forces and moments on a tire, providing directly the data for the drawbar pull of said tire, thus supporting the calculation of friction based on this data. This indoor testing apparatus allows for some degree of replication by helping to maintain test conditions and by imposing a desired tire slip; the normal load, camber angle, toe angle, and other testing configurations can also be pre-set, as required. Methods of and issues related to controlling the production of ice and maintaining the conditions of numerous factors for each trial run were also documented. The AVDL terramechanics rig allowed for the collection of data from tests that varied the tire tread, tire inflation pressure, normal load on the wheel, and the slip ratio of the moving tire. This empirical data was then analyzed through the statistical analysis program JMP 8 in order to determine which factors (or combination of factors) significantly influence pneumatic tire friction on ice. The analysis verified that the slip ratio had a significant effect on the observed coefficient of friction, which decreased as the slip ratio increased. The combinations of the slip ratio and inflation pressure and the slip ratio and tire setup also had a significant effect on the observed coefficient of friction. The tests appear to have validated the theory that the drawbar pull and the traction was higher for the tire with tread.