Service Seeking Behaviors among Service Members and Spouses of Service Members: Facilitating and Inhibitory Factors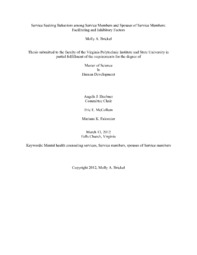 View/Open
Downloads: 26
Downloads: 11
Date
2012-03-13
Author
Brickel, Molly Ashworth
Abstract
While previous research has explored the relationship between combat exposure and mental health disorders, the effects of mental health disorders on attrition rates of Service members, the discrepancy between mental health counseling services available and utilized by Service members, and barriers to seeking mental health counseling services, the majority of studies thus far have only been conducted with Service members and have been quantitative in nature. While researchers have begun to explore the experience of deployment on Service member spouses, little research has focused specifically on their service seeking behavior regarding accessing mental health services. This is unfortunate given that multiple studies have indicated the importance of including Service member's spouses in future research. This qualitative study included both Service members and spouses of Service member's in an attempt to capture their mental health counseling service seeking behaviors. Thematic analysis was employed to develop a model of mental health seeking behavior among Service members and their spouses. The resulting model is unique in that it attempts to account for the influence of multiple contextual and ecological factors. Limitations of the study, future research and clinical implications are also discussed.
Related items
Showing items related by title, author, creator and subject.
Scherr, S.J.

;

Milder, J.C.

;

Bracer, C.

(

Nairobi, Kenya: World Agroforestry Centre,

2007

)

The development of Compensation and Rewards for Environmental Services (CRES) will have differential impact on poor resource managers and poor consumers depending upon the characteristics of the resource itself, the financial ...

Beria, L.

;

Prihatno, J.

(

2005

)

'Payment for environmental services' (PES), or what we refer to in this paper as 'rewards for environmental services', is recognised as an innovative scheme to achieve the dual goals of environmental conservation and poverty ...

Ortiz Malavasi, E.

(

2002

)

The Payments for Environmental Services Program (PESP) implemented in Costa Rica is an alternative approach to halt environmental degradation derived from deforestation in low income nations. In this system, land owners ...