On Tuesday, November 28, VTechWorks will be unavailable due to an upgrade. Please do not plan to use the repository or deposit files in Elements on the 28th. Login attempts may result in inaccurate error messages. Email vtechworks@vt.edu if you have questions.
The Self-Regulation of Drinking in College Students: Scale Development and Validation and Relationship to Academic Performance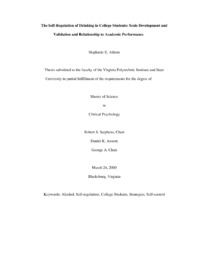 View/Open
Downloads: 314
Downloads: 25
Date
2000-03-24
Author
Adams, Stephanie E.
Abstract
Despite widespread alcohol use by college students, the majority of them appear capable of controlling their drinking. The present study sought to develop a measure assessing college students' use of self-regulatory strategies in an effort to control their drinking. Three hundred and ten undergraduates completed questionnaires assessing a variety of alcohol-related behaviors and beliefs, as well as academic performance and strategy use. A fifty-item Drinking Self-Regulation Questionnaire (DSRQ) was developed based on social-cognitive theory, pilot data, and principal components analysis. The measure was composed of three scales (cognitive, behavioral, and environmental strategies), each evidencing good reliability. The DSRQ was negatively correlated with quantity and frequency of drinking, indicating that the more self-regulatory strategies individuals used to control their drinking, the less they drank. The DSRQ also was negatively related to alcohol-related problems, indicating that the more strategies an individual used, the fewer alcohol-related problems he or she experienced. A positive relationship was found between the DSRQ and self-efficacy for avoiding drinking heavily, suggesting that higher self-efficacy was associated with greater strategy use. In multiple regression analyses the DSRQ was shown to contribute to the prediction of drinking beyond a measure of self-efficacy, indicating that it assessed a unique construct which may further our understanding of controlled versus excessive use of alcohol. The present study failed to find a relationship between alcohol use and academic performance. These results suggest that the present study was successful in constructing a questionnaire assessing college students' use of self-regulatory strategies to control their alcohol use.