Understand Willingness to Pay for Pollination and User Sense of Place Connections on the Eastern Shore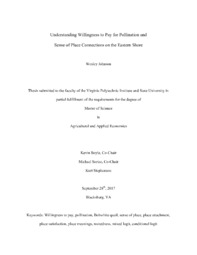 View/Open
Downloads: 353
Downloads: 84
Date
2017-11-02
Author
Johnson, Wesley James
Abstract
The global decline of pollinators, insects and animals that assist in pollination and fertilizing plants, poses a great risk to global food supply. This study investigates if people have preferences for a program to abate decline in a region along the East Coast of the United States. A survey is used to investigate these preferences and connections to the region to understand if individual connections can explain preferences. The majority of people were found to not have preferences to help increase pollinator abundance. Additionally, measures of connection to the region were found to be insignificant in explain individual preferences.
Related items
Showing items related by title, author, creator and subject.
For the "Indigenous Peoples" (IPs) of the Americas (North, Meso, and South), the constant and mostly violent process of erasure of their communal places is associated, from its inception to date, with colonization. In ...

Kline, Vincent (Photographer)

(

Digital Library and Archives, University Libraries, Virginia Tech,

2012-03-12

)

Wells, C Leanne

(

Virginia Tech,

2013-03-14

)

This dissertation explores the lived experiences of workers who are involuntarily socially isolated in their work-places through the actions of one or more colleagues. This hermeneutic phenomenological inquiry is called ...