The Colored Sense of Awareness: An Analysis of African American Perceptions of Race and Communication in the Workplace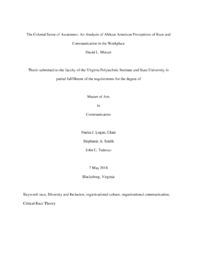 View/Open
Downloads: 36
Downloads: 7
Downloads: 6
Date
2019-06-21
Author
Mercer, David Lewis
Abstract
The United States has a troubled history with race relations. African Americans have immeasurably experienced racism and racial oppression in various forms and in many sectors of the American society. One of the sectors that the racial inequalities of our past have affected is the employment sector. Many Americans experience the workplace on a daily basis and therefore experience the inequities that persist in such environments. This study explores African American experiences with race in the workplace and the way that race shapes today's workplace. Specifically, this study analyzes the experiences of African American professionals working at for-profit organizations and their perceptions of the way that race shapes their organization's culture. This study employs a constant comparative analysis of qualitative interviews using Critical Race Theory as a guide. The interviews explored the manner in which race, Diversity and Inclusion (DandI) programs, and communication affect organizational culture. The thesis further questions if and how organizations are working to create and sustain a more equitable workplace for all employees. The findings suggest that African American professionals perceive that their organizations are welcoming and inclusive of all minority groups. They also perceive the organizational culture to be friendly and family-oriented where open, positive, and encouraging communication exists. The professionals feel that their organizations are generally interested in diversity, however they feel the organization's engagement with diversity practices is not sufficient. The findings of this study could be used as a tool for organizations to reevaluate their diversity practices and to ensure that they are creating an equitable workplace.
General Audience Abstract
The inequalities caused by racism and the systematic oppression of African Americans in the United States are present in many areas of contemporary American life. African Americans are still faced with problems that stem from the country's past with race and are affected by these problems in many ways. One area that African Americans must deal with race is the workplace. The inequalities that were created in the past have caused race to play a significant role in the way that African Americans experience the workplace. This study explored the experiences of African American professionals in the workplace and the way they perceive race to play a role in shaping their organization's culture. The findings of the study explain that African American professionals perceive that race has a definite effect on their organization's culture. The professionals believe that their organizations have a general interest for diversity, but they have not adequately addressed the lack of racial and ethnic diversity in the workplace. They reported that the organizations are inclusive and provide an environment where they can be productive and develop professionally. Today's organizations have made a step in the right direction of diversity, but there is much work left to do.