VTechWorks staff will be away for the Memorial Day holiday on Monday, May 27, and will not be replying to requests at that time. Thank you for your patience.
Coursework: Constructing a Building from a Brick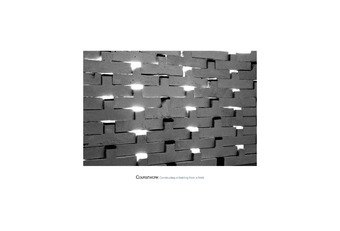 View/Open
Downloads: 214
Downloads: 101
Date
2011-08-05
Author
Cincala, George Michael
Abstract
This thesis explores the design of a T-shaped brick and its influence throughout the course of the project. The T-brick established a significant direction towards weaving masonry and my firsthand recognition of the utmost importance of poetic construction for an architect. This thesis helps to affirm that construction is vital for architecture to be autonomous. Programmatic requirements, technology, social change, new inventions, etc., distract from the potential of architecture. We must first concern ourselves with how a building is to be made and trust that those things outside of architecture will only be right when a building is ready to accept them, not vice versa. But, that is not to say a building should not serve human needs well. Rather, serving needs well is but a bare minimum of good architecture.